GB Innomech is recognised as one of the UK's leading Automation specialists, applying their skills to both new, early stage businesses as well as some of the established FTSE 100 companies.
Size is not important; but we take great pride in our ability to establish strong long term relationships at both the organisational and individual levels.
Established since 1990 and based in the award winning innovation centre, our carbon neutral offices and workshop, within the Cambridge technology cluster we work with companies worldwide to reduce cost and improve the quality of their products through automation. We work from providing feasibility studies to providing fully validated solutions. A strength, which often separates us from others, is that we can always make what we propose and design!
Some of our customers have asked us to build repeats of their products. In addition to our Design and Development solutions we provide a Repeat Build service for small volume, high value products which we can, if you require, install, train and service throughout the world using our sister company Nexus Intelligent Engineering.
Our risk based approach, where we undertake risk assessments throughout the project, and where we solve the 'real' problems, which are often different to those first perceived, has led to a strong reputation for providing innovative solutions within regulated environments. However we apply this approach to all of our work and have delivered successful projects within the following sectors:
Medical
Renewables
Industrial Automation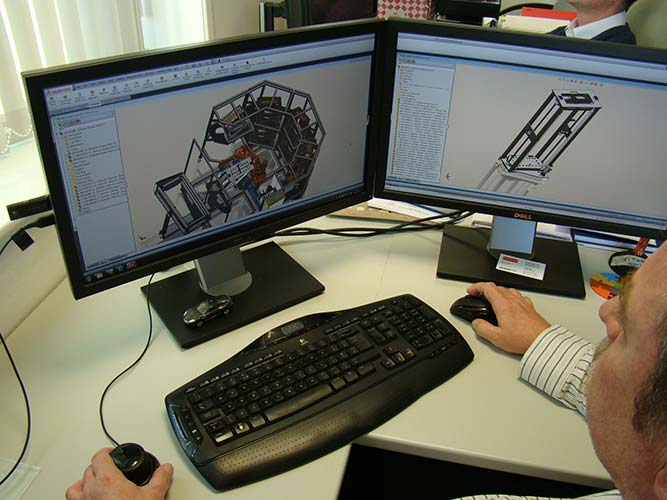 Steady sustained growth of our business required space for creative and innovative thinking on behalf of our customers. The result was the Innovation Centre, a purpose-built 6,000 square feet environmentally friendly facility, comprising offices and workshops, just outside of Ely.
In January 2004 the award winning building, designed to allow for easy growth, was opened on what was previously a brown field site.
Its design reflects the ethos of the management team; it is efficient and eco-friendly, using traditional building materials with environmentally friendly features that include:
Under floor heating system fed by a ground source heat pump taking heat energy from the surrounding earth
All-round extra depth double-glazing, with special coating on south facing units
Special triple glazed and coated front feature windows (south facing) with integral automatically controlled blinds that track the position of the sun
Solar vacuum tube water heater for the hot tap water.
A rain harvester to collect all rainfall on the building and use it to feed the toilets
A heat recovered fresh-air ventilation system
Bio digester and reed bedded pond to process all the waste and add an attractive feature for both staff and visitors, not to mention the local wildlife
In-house designed building management and control system, with individually controlled temperature zones, 'persons present' detection and intruder alert
Low-energy lighting system with level sensors and auto switch-off when 'no persons' present
Refrigeration grade insulated panels in the factory walls
Landscaped grounds to encourage natural flora and fauna, with high hedges for screening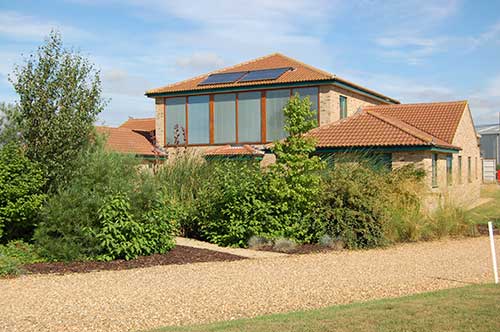 If you would like to know more about this building and how it works for us, or talk to our innovative team about your project, please fill in the Enquiry Form.
GB Innomech Ltd
The Innovation Centre
Common Road
Witchford
Ely
Cambridgeshire
CB6 2HZ
In addition to our certification of the ISO 9001:2008 standard we are proud to have received a number of awards in recent years demonstrating our successful business growth and commitment to the environment.
Queens Award for Export
In 2009 we were pleased to announce that we received The Queen's Award for Enterprise in the international trade category in recognition of soaring export sales. Over 76% of our total sales were overseas, an increase of 69% over 2006. For more information on this prestigious award go to www.queensawards.org.uk
In 2004 we were a National Gold Winner in the National Green Apple awards. This was awarded to the Company for the design and build of an environmentally friendly manufacturing building; the Innovation Centre. We also received a major commendation in the British Commitment to the Environment (BCE) awards for the same project. For more information on the National Green Apple awards go to www.thegreenorganisation.info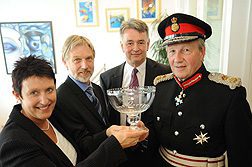 Innomech Receives The Queens Award for Export

Working within the Cambridge area gives us ready access to a number of internationally acclaimed bodies and a whole network of specialists. We use this network to ensure our knowledge of business sectors and cutting edge engineering solutions are kept up to date through affiliations such as The Cambridge Network, One Nucleus (formerly The Eastern Region Biotech Initiative (ERBI)), and Cambridge University Institute for Manufacturing.
This knowledge network also gives us the ability to use, from time to time, specialists in processes or technologies that individual projects may require, but where a full time resource is not justified. This enables a very cost effective approach to supplying highly innovative automation solutions.
Working with GB Innomech will enable you to obtain any specialist knowledge your project requires.
NEXUS INTELLIGENT ENGINEERING
Born out of the award winning automation specialist GB Innomech; Nexus IE works with design houses, research & development and project engineering departments to provide limited production assembly, testing, installation, training, servicing and support services. The Nexus IE team; led by Managing Director Julie Dean, offers clients expertise and experience in food, pharmaceuticals and medical devices and is supported by a robust ISO9001 quality system within in an award winning purpose-built facility.

GIRONEX
Gironex Ltd is a technology spin-out from the Innomech Group, a company with 30 years' experience working across multiple sectors, including medical devices, pharmaceuticals and other regulated manufacturing environments, working with many of the world's top pharmaceutical and healthcare companies. Gironex produces the innovative Cube range of precision powder dispensing systems, designed to dispense powders precisely and accurately for a wide range of applications.

GB Innomech has around 30 staff encompassing, in the main, a wide variety of engineering roles. We are always looking for highly qualified personnel to work on a variety of special purpose machine projects.
As we win new projects and look for new market opportunities we are always looking for highly qualified, whether through academia or experience, personnel to work on a variety of special purpose machine projects.
Flexibility and creativity are always important to us and the ability to work with others in a team environment is essential.
Salaries and company benefits are competitive and we work in a pleasant and friendly environment. You will find GB Innomech an exciting place to work.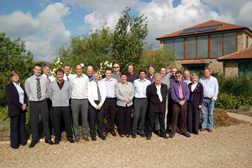 We are currently looking to fill the following positions:
No vacancies at this time
Any vacancies are listed above but if you cannot find a vacancy that suits your skills and qualifications but would like to be considered for a position when it arises, we are happy to receive speculative CVs from individuals. Please send to info@innomech.co.uk
Sorry, but no speculative CVs from agencies.
Recruitment agencies
We like to hire staff directly. We have a preferred supplier list for when we need support with recruitment and we will contact you if we need help. We don't accept CVs from agencies whom we have not signed a current formal fee agreement with. Any CVs received will be considered unsolicited and eg will not be obligated to pay any fees.
COME WORK WITH US. JOIN OUR TEAM TODAY.